This year our garden has been doing really well, with a variety of tomato plants, a couple different types of peppers, zucchini, cucumber, pumpkin, and a few others. Now that we're in mid-August and things are really starting to pop, Mike and I are in the fun spot of figuring out what to make with all this goodness.
After a pretty bountiful tomato harvest today, we realized we had all the pieces for a tasty gazpacho — a chilled Spanish treat that's perfect for a hot summer weekend. Mike decided to mostly focus on just one type of tomato we had the requisite two pounds of, the yellow zebra, and grabbed our cucumber, a California heirloom pepper, and a couple small onions the neighbor grew (not shown). Everything but the garlic, home grown!
First of all, let me say this — WOW, the flavor, fragrance, and firmness of just-picked garden produce is unlike anything you can buy. We knew this well about tomatoes, but the pepper was a new experience for us, and we're definitely going to be planting a lot more of those next year.
One of the nice things about gazpacho is how simple it is to make. We followed the NYT recipe, "Best Gazpacho." Chop everything up, throw it in the blender, add some salt, vinegar, and oil, then let it chill in the fridge for a bit.
The instructions specify to strain this after blending. I almost skipped this step, seeing how smooth the Vitamix makes everything. But I read a comment in the recipe from someone else who used a Vitamix and skipped the straining the first time through. They said it was good, but the second time they made it, they strained it and it made "The flavors so precise, unusual in purity, they required no garnish, no drizzle, no crouton."
So we strained ours. I'm glad we did, not just seeing how much grit was left in the screen after, but how much smoother still the entire dish became.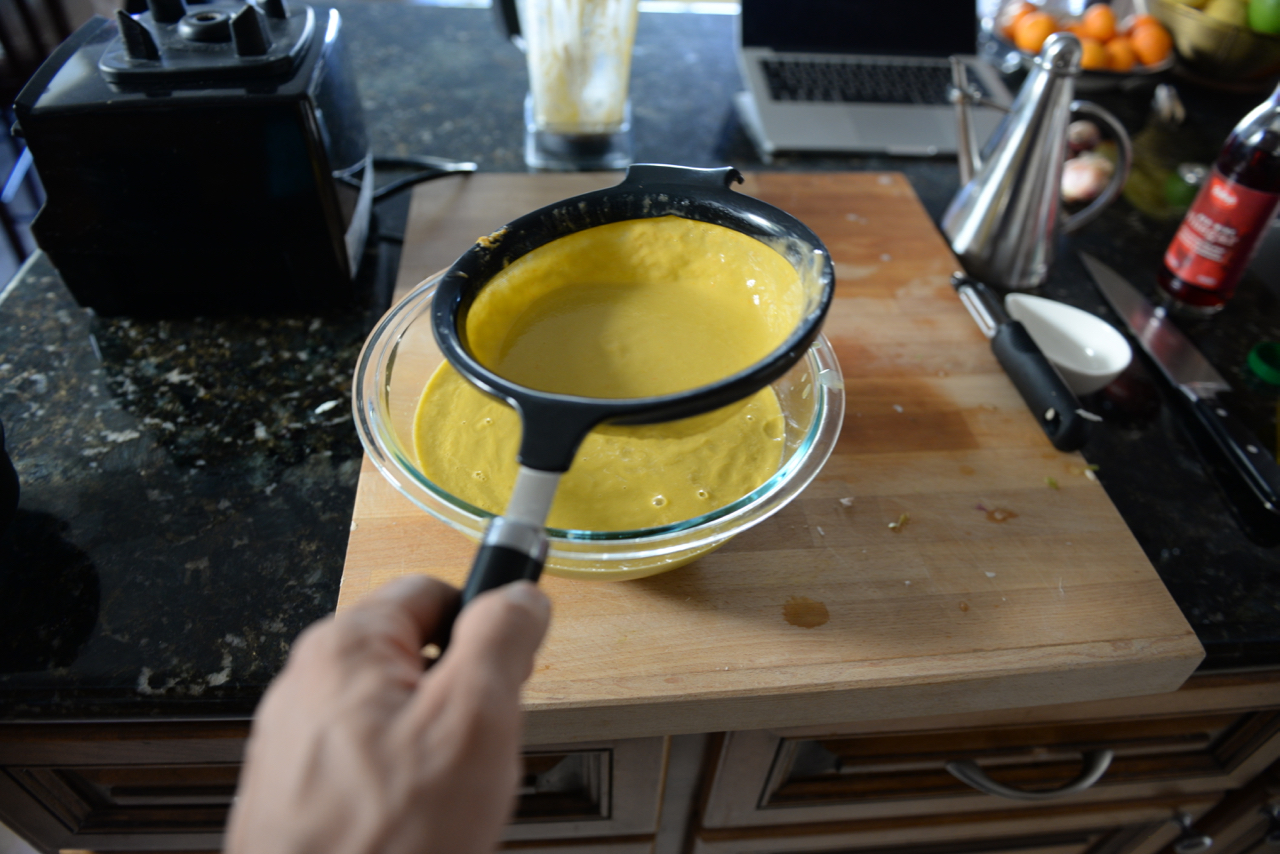 A pitcher would be a nicer presentation, but for speed of preparation we just put the bowl into the fridge with a ziplock bag of ice inside it to speed the cooling but not dilute it.
While the soup was chilling, we threw a hunk of dough (Trader Joes garlic & herb pizza crust) into the oven, following the no-knead recipe — a regular in our house and something you should really try — to have a little something to dip into the gazpacho. It's not Mike's favorite dough for pizza, but turned out pretty decent for bread.
By the way, if you do want to get into no-knead bread making (again, you really should), you'll need a 4-6qt dutch oven. You can use an expensive Le Creuset pot for this, but we use this Lodge cast-iron dutch oven that's normally about $50, and sometimes cheaper. The lid doubles as a skillet, which has become one of our most frequently used pans. It's an easy and worthwhile investment.
With the bread ready and the soup chilled, we poured ourselves an afternoon snack and relaxed after a very nice weekend. Enjoy!